World Rare Disease Day is an annual observance to raise awareness for rare diseases, and improve access to treatments and medical representation for individuals with rare diseases and their families. Created by European organization EURORDIS in 2008, this day is celebrated on the last day of February each year. The 8th annual World Rare Disease Day will be held on Saturday, February 28, 2015. On this day, various activities take place globally.
Looking for ways to get involved?
Global Genes™ holds a variety of awareness raising activities starting on World Rare Disease Day and continuing throughout the month of March (because RARE deserves more than a day). Please join patients, families, friends, caregivers, scientists, physicians, researchers, health care providers, policy experts and our team to raise RARE disease awareness. Here are a few ways you can get involved!
February/March Events for Rare Disease Awareness
•    Tweet Chat in Partnership with WEGO Health – Focusing on community events and facts & stats surrounding World Rare Disease Day. Thursday, February 19 at 2PM EST, participants can log on to Twitter and follow hashtags #RARETalk and #hachat to share ideas and win Global Genes & Wego Health swag bags, Walgreens gift cards, and more!
•    Global Genes 1st Annual Denim Dash Virtual 5k Run/Walk for Rare Disease (Virtual/Global) March 21-29, 2015 –The Denim Dash was created through collaborative efforts between Orphan Drug Solutions and Global Genes as their first annual virtual 5K event. This virtual 5k is designed to ensure that anyone, anywhere, can participate and show their support and raise awareness for patients, family and friends of the Rare Disease Community. The cost to register is $35 and includes Denim Dash t-shirt, race bib and Blue Denim Genes Ribbon. In order to receive a t-shirt, registration must be completed by 3/6/2015. Register here.
•    Give RARE (Online) – Give RARE, on March 3rd, is a single day for the world to GIVE to RARE disease! In partnership with Zenzaga, the Give RARE technology platform allows rare disease nonprofits to sign-up easily to create a donation page, raise funds for their cause and get access to win prize funds from sponsors. Grants will be given throughout the day. Register by February 15th and your nonprofit will have a chance to win a year's worth of URS charity filings (worth $5000) from launch partners Charity Compliance. Register your cause today!
•    'I Love Someone RARE & Beautiful.' T-shirts in Partnership with the Gwendolyn Strong Foundation – Global Genes and the Gwendolyn Strong Foundation have partnered once again by bringing back the popular 'I love someone RARE & beautiful.' tee in celebration of World Rare Disease Day. This is a LIMITED EDITION item, so get them while they last! They can be purchased here.
•    Wear That You Care™ campaign – All across the world people participate in supporting rare disease awareness and Wear That You Care by wearing the Blue Denim Genes Ribbon™ and their favorite pair of jeans on World Rare Disease Day. Wear That You Care campaigns take place locally—supporters often urge their offices, teams or other groups to wear jeans on a specific day and make a donation.
•    Social Media Awareness – Patients, advocates, and industry alike can grow social awareness by sharing photos, information, and events with Global Genes' Facebook, Twitter, and Instagram. Where supporters can tag their photos or posts with hashtags #WearThatYouCare, #WRDD2015, #RAREadvocate, and #CareAboutRare to help draw attention to their content. Additionally, supporters can visit www.globalgenes.org/CareAboutRare and upload their photo into photo frames to use as social media profile images to further help spread awareness.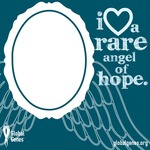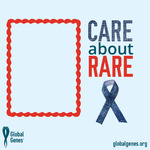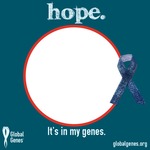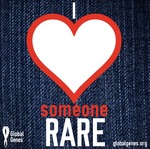 Additional community events are located on the Global Genes website: 
http://globalgenes.org/2015-world-rare-disease-day-community-events/
Join the movement! Advocate for the over 350 million with a RARE disease today!      

Global Genes is a 501(c)(3) nonprofit organization advocating for rare disease globally.
Filed under: adrenal, Cushing's, Meetings and Conferences, pituitary, Rare Diseases | Tagged: caregivers, EURORDIS, families, friends, Global Genes, health care providers, patients, physicians, policy experts, Rare disease, Rare Disease Day, researchers, scientists, treatments |