Single-cell transcriptome analysis identifies a unique tumor cell type producing multiple hormones in ectopic ACTH and CRH secreting pheochromocytoma
Ectopic Cushing's syndrome due to ectopic ACTH&CRH-secreting by pheochromocytoma is extremely rare and can be fatal if not properly diagnosed. It remains unclear whether a unique cell type is responsible for multiple hormones secreting. In this work, we performed single-cell RNA sequencing to three different anatomic tumor tissues and one peritumoral tissue based on a rare case with ectopic ACTH&CRH-secreting pheochromocytoma. And in addition to that, three adrenal tumor specimens from common pheochromocytoma and adrenocortical adenomas were also involved in the comparison of tumor cellular heterogeneity. A total of 16 cell types in the tumor microenvironment were identified by unbiased cell clustering of single-cell transcriptomic profiles from all specimens. Notably, we identified a novel multi-functionally chromaffin-like cell type with high expression of both POMC (the precursor of ACTH) and CRH, called ACTH+&CRH + pheochromocyte. We hypothesized that the molecular mechanism of the rare case harbor Cushing's syndrome is due to the identified novel tumor cell type, that is, the secretion of ACTH had a direct effect on the adrenal gland to produce cortisol, while the secretion of CRH can indirectly stimulate the secretion of ACTH from the anterior pituitary. Besides, a new potential marker (GAL) co-expressed with ACTH and CRH might be involved in the regulation of ACTH secretion. The immunohistochemistry results confirmed its multi-functionally chromaffin-like properties with positive staining for CRH, POMC, ACTH, GAL, TH, and CgA. Our findings also proved to some extent the heterogeneity of endothelial and immune microenvironment in different adrenal tumor subtypes.
The study described an extremely rare type of adrenal pheochromocytoma that secretes both ACTH and CRH, in addition to catecholamines. Single-cell RNA sequencing of the tumor and other tumors revealed a group of cells that are responsible for the hormone secretion. We believe that this work will provide an interesting example of functional endocrine tumors and how they are formed.
https://doi.org/10.7554/eLife.68436.sa0
Cushing's syndrome (CS) is a rare disorder caused by long-term exposure to excessive glucocorticoids, with an annual incidence of about 0.2–5.0 per million (Lacroix et al., 2015; Newell-Price et al., 2006; Lindholm et al., 2001; Steffensen et al., 2010; Bolland et al., 2011; Valassi et al., 2011). About 80% of CS cases are due to ACTH secretion by a pituitary adenoma, about 20% are due to ACTH secretion by nonpituitary tumors (ectopic ACTH syndrome [EAS]), and 1% are caused by corticotropin-releasing hormone (CRH)-secreting tumors (Alexandraki and Grossman, 2010; Ejaz et al., 2011; Ballav et al., 2012). Most EAS tumors (~60%) are more common intrathoracic tumors, only 2.5–5% of all EAS are caused by a pheochromocytoma (Alexandraki and Grossman, 2010; Isidori et al., 2006; Ilias et al., 2005; Aniszewski et al., 2001). Pheochromocytoma, a catecholamine-producing tumor, becomes even rarer when it is capable of both secreting ACTH and CRH (Lenders et al., 2005; Zelinka et al., 2007). By 2020, only two cases with pheochromocytoma secreted both ACTH and CRH were reported (Elliott et al., 2021; O'Brien et al., 1992; Jessop et al., 1987). As one of the largest adrenal tumor treatment centers in China, our hospital, Peking Union Medical College Hospital (PUMCH) receives more than 500 adrenal surgery performed per year, with almost 100 cases undergoing pheochromocytoma surgery. But so far, we have encountered only one case of pheochromocytoma secreting both ACTH and CRH, which was first reported in this study.
Since the combination of dual ACTH/CRH secreting pheochromocytoma with CS is extremely rare, there is limited knowledge about the diagnosis and management of this disease. Ectopic secretion hormones ACTH and CRH may complicate the presentation of pheochromocytoma, and this tumor usually leads to CS, which can be fatal if not properly diagnosed and managed (Ballav et al., 2012; Ilias et al., 2005; Lenders et al., 2014; Lase et al., 2020). Surgical resection of the pheochromocytoma is the primary treatment option. Although previous studies have reported ectopic ACTH and CRH secreting pheochromocytomas, it was unclear whether a unique cell type that produces multiple hormones influences CS. The concept of 'one cell, one hormone, and one neuron one transmitter,' which is known as Dale's Principle (Dale in 1934; for detailed discussion, see Burnstock, 1976), has dominated the understanding of neurotransmission for many years (Burnstock, 1976). Currently, single-cell RNA-sequencing (scRNA-seq) can examine the expression profiles of a single cell and is recognized as the gold standard for defining cell states and phenotypes (Tang et al., 2009; Tammela and Sage, 2020; Kolodziejczyk et al., 2015; Patel et al., 2014; Tirosh et al., 2016b; Tirosh et al., 2016a; Puram et al., 2017; Venteicher et al., 2017; Young et al., 2018; Bernard et al., 2019; Segerstolpe et al., 2016; Reichert and Rustgi, 2011). It can reveal the presence of rare and novel unique cell types, such as CFTR-expressing pulmonary ionocytes on lung airway epithelia (Montoro et al., 2018; Plasschaert et al., 2018). It also provides an unbiased method to better understand the diversity of immune cells in the complex tumor microenvironment (Papalexi and Satija, 2018; Stubbington et al., 2017).
In this study, we reported a rare case of CRH/ACTH-secreting pheochromocytoma infiltrating the kidney and psoas muscle tissue. scRNA-seq identified a unique chromaffin-like cell type, called ACTH+&CRH + pheochromocyte, with both high expression of POMC (precursor for ACTH) and CRH pheochromocyte as well as TH (tyrosine hydroxylase, a key enzyme for catecholamine synthesization). Immunocytochemical and immunofluorescence staining showed all for these markers, which confirmed the tumor capable of multiple hormones secreting characteristics. We determined that the expression of POMC directly causes the secretion of ACTH, and the expression of CRH indirectly promotes the secretion of ACTH hormone, which ultimately leads to CS. After the tumor resection, clinical manifestations also showed complete remission of CS. For comparison, other adrenal tumor subtypes were also collected and studied, namely, a common pheochromocytoma (without ectopic ACTH or CRH secretion function) and two adrenocortical adenomas. We used a scRNA-seq approach to obtain transcriptomic profiles for all collected samples and identified a list of differentially expressed genes (DEGs) through cell clustering and markers finding. Notably, GAL, co-expressed with ACTH and CRH, could be a new candidate marker to detect the rare ectopic ACTH+&CRH + secreting pheochromocytes by comparing ACTH+&CRH + pheochromocyte with common pheochromocyte and cortical cell clusters. It suggested that GAL, which encodes small neuroendocrine peptides, may be locally involved in the regulation of the hypothalamic-pituitary-adrenal (HPA) axis.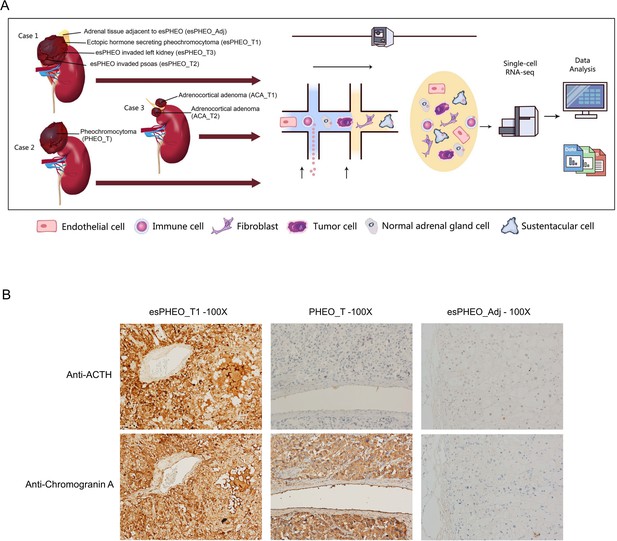 Clinical sample collection of adrenal tumor and adjacent specimen for scRNA-seq analysis.
(A) scRNA-seq workflow for three tumor specimens (esPHEO_T1, esPHEO_T2, and esPHEO_T3) and one adjacent specimen (esPHEO_Adj) from the rare pheochromocytoma with ectopic ACTH and CRH secretion (Case … see more
Then, we applied scRNA-seq approaches to selected seven specimen samples (six tumors and one sample adjacent to the tumor). The tissues after resection were rapidly digested into a single-cell suspension, and the 3′-scRNA-seq protocol (Chromium Single Cell 3′ v2 Libraries) was performed for each sample unbiasedly. After quality control filtering to remove cells with low gene detection, high mitochondrial gene coverage, and doublets filtration, we compiled a unified cells-by-genes expression matrix of a total of 44,511 individual cells (Supplementary file 1, Appendix 1—figure 2). Then the SCT-transformed normalization, principal component analysis (PCA), was employed to perform unsupervised dimensionality reduction. Then, the cells were clustered based on the graph-based clustering analysis, and visualized in the distinguished diagram using the Uniform Manifold Approximation and Projection (UMAP) method. The marker genes were calculated to identify each cell cluster by performing differential gene expression analysis (Supplementary file 2).
As shown in Figure 2A, the distinct cell clusters were identified and the conventional cell lineage gene markers were employed to annotate the clusters, such as CHGA and CHGB for adrenal chromaffin cell, cytochrome P450 superfamily for adrenocortical cell, S100B for sustentacular cell, GNLY for NK cell, MS4A1 for B cell, CD8A for CD8+ T cell, and IL7R for CD4+ T cell. Based on the expression of gene markers, we recognized a total of 16 main cell groups: ACTH+&CRH + pheochromocyte, pheochromocyte, adrenocortical, sustentacular, erythroblast/granulosa, endothelial, fibroblast, neutrophil, monocyte, macrophage, plasma, B, NK, CD8+ T&NKT, CD8+ T, and CD4+ T, among which the endothelial cell group was composed of four endothelial cell subgroups. The heatmap showed the expression levels of specific cluster markers for each cell phenotype that we identified (Figure 2B). For this analysis, we specifically focused on the four types of adrenal cells and showed their markers in a heatmap (Appendix 1—figure 3). Additionally, we detected the transcription factors alongside their candidate target genes, which are jointly called regulons. The analysis scored the activity of regulon for each cell (Appendix 1—figure 4A) and yielded specific regulons for each cellular cluster (Appendix 1—figure 4B). We also specifically focused on the adrenal cells and found XBP1 as the top regulons for ACTH+&CRH + pheochromocyte and adrenocortical cell type (Appendix 1—figure 4C).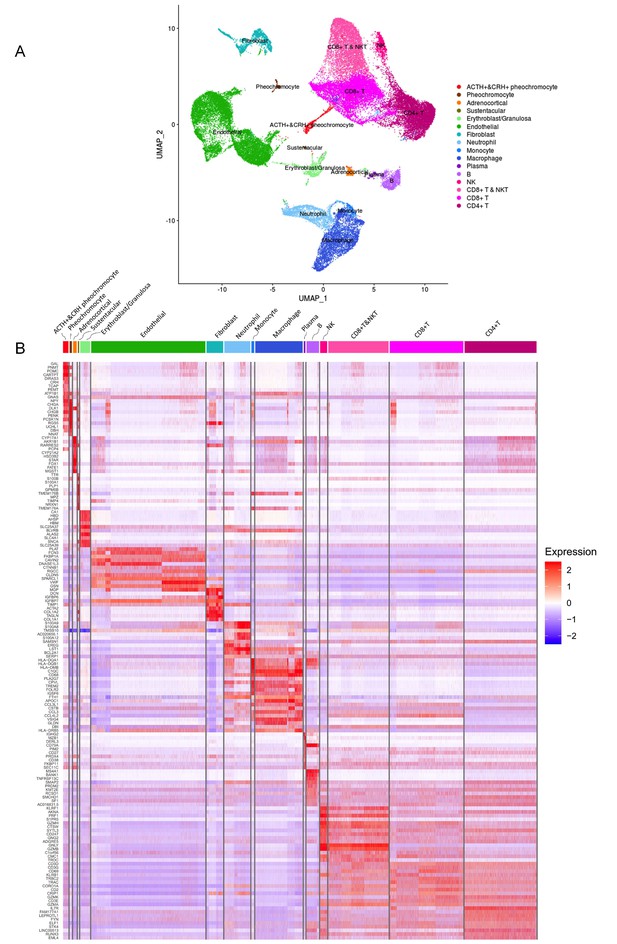 Different cell types and their highly expressed genes through single-cell transcriptomic analysis.
(A) The t-distributed stochastic neighbor embedding (t-SNE) plot shows 16 main cell types from all specimens. (B) Heatmap shows the scaled expression patterns of the top 10 marker genes in each cell … see more
A unique tumor cell type was revealed by the composition analysis of cell types in each sample.
The results validated an ectopic ACTH and CRH secreting pheochromocytoma. (A) Cell clusters shown in UMAP map can be subdivided by different specimens. (B) Frequency distribution of cell types among … see more
Our scRNA-seq analysis validated that the mRNA expression of POMC (precursor for ACTH) and CRH in pheochromocyte triggered the pathophysiology of ectopic ACTH and CRH syndromes, thereby stimulating the adrenal glands to release cortisol. The overexpression of TH and PNMT was responsible for the excessive secretion of catecholamines in the ACTH+&CRH + pheochromocyte and pheochromocyte cell subtypes. Tumor samples (esPHEO_T1, esPHEO_T2, and esPHEO_T3) from Case 1 and PHEO_T from Case 2 were demonstrated to have the function of producing catecholamine. These genes related to catecholamine secretion were all negative for adrenocortical cell subtypes because the catecholamine-producing pheochromocytomas originated from chromaffin cells in the adrenal medulla rather than the adrenal cortex. Our laboratory tests were consistent with these results, that is, both Case 1 and Case 2 had a high level of catecholamines in plasma and 24 hr urine while Case 3 had a normal level. We also found CARTPT was similar to PNMT and can be used as a marker for ACTH+&CRH + pheochromocyte and pheochromocyte. Chromaffin cell markers CHGA and CHGB were mainly characterized in PHEO_T and three tumor samples from Case 1. Adrenocortical cell clusters mainly existed in ACA_T1 and ACA_T2, but a few existed in esPHEO_Adj. S100B was specifically identified in PHEO_T. An absence of S100-positive sustentacular cells has been previously confirmed in most malignant adrenal pheochromocytomas, and the locally aggressive or recurrent group usually contains a large number of these cells (Unger et al., 1991). It suggests that PHEO_T from Case 2 might be a locally aggressive case, while Case 1 is the opposite. To validate this finding, we performed additional IHC staining experiments on paraffin-embedded serial slices with similar tissue regions from the tumor specimen esPHEO_T3 using antibodies against CgA, ACTH, POMC, CRH, TH, and GAL. We did find that these markers were all positive in the tumor tissue, which further indicated that the special rare pheochromocytoma exhibited multiple hormone-secreting characteristics, including ACTH, CRH, and catecholamines (Figure 3D, Appendix 1—figure 8). We also prepared two serial slices for immunofluorescence co-staining for POMC&CRH and POMC&TH. The legible co-localization signals were observed, where the green signal was for POMC, and the red signal was for CRH and TH (Figure 3E, Appendix 1—figure 9). This result confirmed the ACTH and CRH secreting pheochromocytoma from Case 1 contained a unique multi-functional chromaffin-like cell type, which was consistent with the analysis result by scRNA-seq.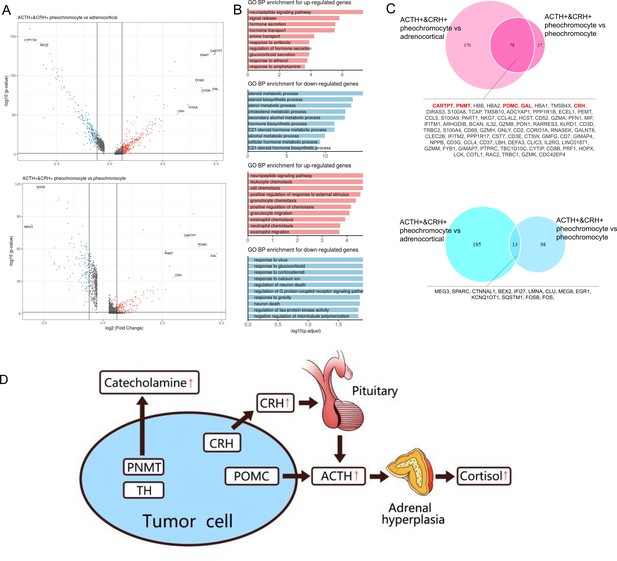 Altered functions in POMC+&CRH + pheochromocyte revealed by differential gene expression analysis.
(A) Volcano plot of changes in gene expression between POMC+&CRH + pheochromocytes and other adrenal cell types (pheochromocytes and adrenocortical cells). The x-axis specifies the natural logarithm … see more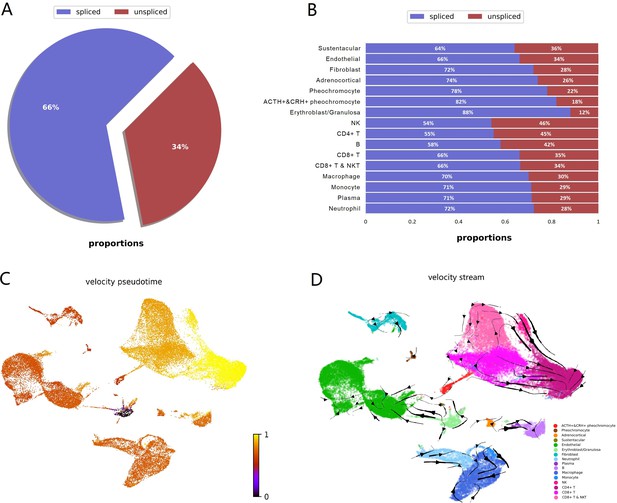 RNA velocity analysis supported sustentacular cells as root and indicated four adrenal cell subtypes were independent respectively and not directed toward other cell types.
RNA velocity is the time derivative of the measured mRNA abundance (spliced/unspliced transcripts) and allows to estimate the future developmental directionality of each cell. (A) The total ratios … see more
Pseudotime analysis of adrenal cells inferred by Monocle.
We ran reduce dimension with t-SNE for four types of adrenal cells and sorted cells along pseudotime using Monocle. The single-cell pseudotime trajectories by ordering cells were constructed based … see more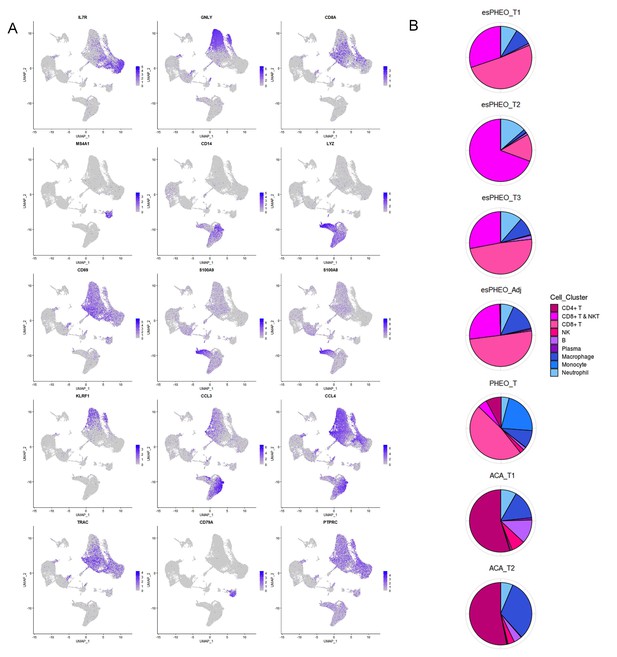 Diverse immune microenvironments in different adrenal tumor subtypes and tumor-adjacent tissue.
(A) The UMAP diagram shows the expression levels of well-known marker genes of immune cell types. (B) Frequency distribution of immune cell sub-clusters in different adrenal tumors and … see more
Endothelial cells consisted of four distinct sub-clusters: vascular endothelial cells, lymphatic endothelial cells, cortical endothelial cells, and other endothelial cells, as shown in the cell cluster distribution map highlighted by endothelial cells (Figure 8A, Supplementary file 3). Various adrenal tumor subtypes had different endothelial compositions (Figure 8B). Vascular endothelial cells were mainly identified in pheochromocytoma samples (esPHEO_T1, esPHEO_T2, esPHEO_T3, and PHEO_T), because pheochromocytoma is a tumor arising in the adrenal medulla, and vascular endothelial cells might be detected from the medullary capillary. Cortical endothelial cells were mainly detected in adrenocortical adenomas (ACA_T1 and ACA_T2). Lymphatic endothelial cells were found in the adjacent adrenal specimen of the rare ACTH+&CRH + pheochromocytoma (esPHEO_Adj). Then, by comparing vascular endothelial cells with two other subclusters (lymphatic endothelial cells and cortical endothelial cells), we found the markers across the subclusters of endothelial cells and annotated GO function of differentially expressed genes (Figure 8C and D). Vascular endothelial cells are the barrier between the blood and vascular wall and have the functions of organizing the extracellular matrix and regulating the metabolism of vasoactive substances. Lymphatic endothelial cells are responsible for chemokine-mediated pathways. Cortical endothelial cells express TFF3 and FABP4, which are involved in repairing and maintaining stable functions.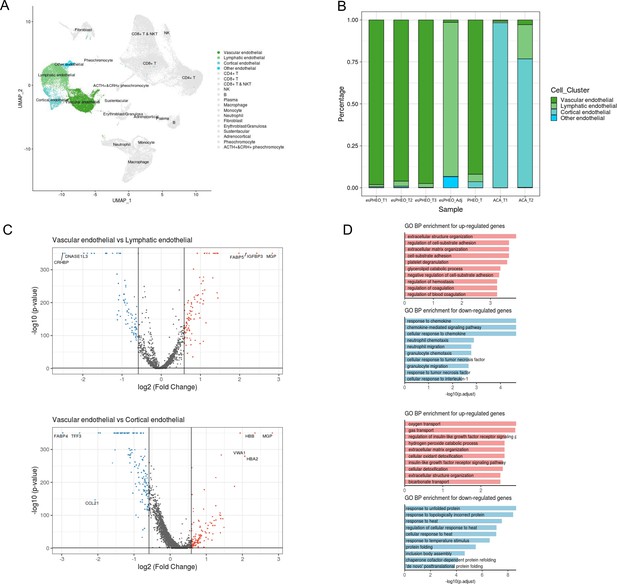 Differential gene expression analysis shows changes in endothelial cell functions.
(A) The UMAP diagram shows four different endothelial cell sub-clusters. (B) Frequency distribution of endothelial cell sub-clusters among different adrenal tumors and tumor-adjacent specimen. (C) … see more
Filed under: adrenal, Cushing's, Rare Diseases | Tagged: adrenal, ectopic, pheochromocytoma | Leave a comment »